Helpful Dog Sites - Links

News: Board & Train for Puppies in Manhattan, Queens, Bronx and Brooklyn
Dapper Dog Training now offers Boarding and Board & Train for puppies and housebreaking. All boarding programs take place in Park Slope, Brooklyn. The lucky dogs get access to a yard whenever they ask! Your dog boards according to your preference; there are no kennels here. Eric is present 24/7 and your dog is never alone. Unless requested, of course.
Where We Demo and Lecture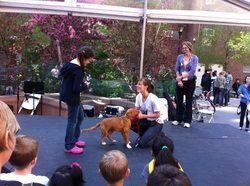 Jessica has given demos at the TriBeCa Film Festival, Meet The Breeds, and was featured on ABC News at Water4Dogs. We spread dog training knowledge and encourage children to participate whenever we can! Our lectures are on Dominance and Dog Training, Introducing Dogs to Babies, Child Safety, and Puppy Training. Lectures take place at the New York Public Library, veterinarian offices, and baby preparation centers like Wild Was Mama and Birthday Presence.
You can see what's scheduled on our
Classes Page
and we will post other exciting demos right here. Psst, we might have been at BarkBox recently!
---