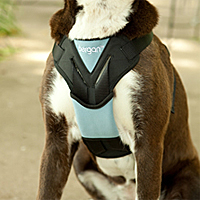 See Article
Bergan Auto Harness
Bergan
We buckle up. Why shouldn't our best friends? Minimize driving distractions and increase protection for both you and your dog. Bergan's Auto Harnesses meet V9DT B2009.1. Pet Safety Durability Test (see www.v9dt.com). The minimum durability thresholds are designed to ensure confidence that a harness will withstand forces generated from sudden stops while minimizing distractions from traveling pets. The complete harness system comes equipped with an adjustable safety tether that has two high-grade aluminum carabiners. These carabiners are climbing-grade and have been tested for 2,500 lbs. for the small size and 5,000 lbs. for the large. The Bergan Auto Harness is durable but also lightweight and comfortable for the dog, and easy to use!
Note: Any tethered car harness can be released if the dog accidentally steps on the release button. For ultimate safety, we recommend using the Angel Guard Seat Belt Release Cover to prevent this from happening.
Comes in four fully adjustable sizes.