This is a book coming out in Fall 2011. The full article is
HERE
. The book is called 'Retrieved'.
The dogs are beautiful, and their service is unmeasurable. The book pays them tribute.
Photographs by Charlotte Dumas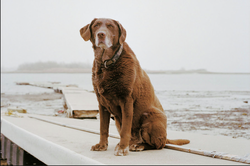 Moxie, age 13, Winthrop, Mass. She arrived at the World Trade Center site on Sept. 11 and began working the next morning. Though she is trained to find survivors, she identified six bodies and many body parts during the eight days she worked there. Since her owner retired her at age 7, she has hunted and spent time on the waterfront.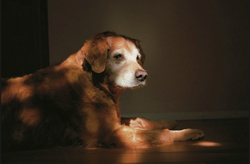 Orion, age 13, Vacaville, Calif. He worked at the World Trade Center for five days after the attacks and later participated in searches for missing hikers in the High Sierras, at elevations of as much as 12,000 feet. Orion's owner says that the dog ''loved the work. His purpose in living was doing search and rescue work.''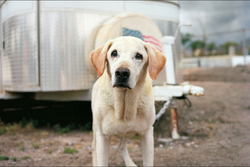 Guinness, age 14, Highland, Calif. He worked at the World Trade Center site for 10 days. In the wake of Katrina and other catastrophic hurricanes, he searched for survivors in areas where the water receded. Guinness's owner says, ''We keep the training fun for the dogs; it's like a game for them.''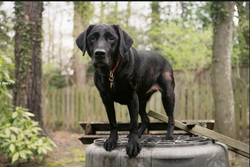 Red, age 11, Annapolis, Md. Trained as a ''live find'' dog as well as a ''cadaver'' dog. Red was driven by her owner to the Pentagon after the attacks, and she worked for 11 days, finding remains for DNA identification in the north parking-lot area. She retired in July. Her owner says, ''Red wants to work, but her body just can't do it anymore.''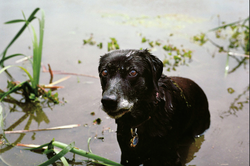 Bailey, age 14, Thompson Station, Tenn. She went to the Pentagon following the attacks of 9/11. Later in her career, she was active in wilderness searches in her home state. Her owner says: ''Even today, if I say we're going to search, she'll get all excited. She still perks up.''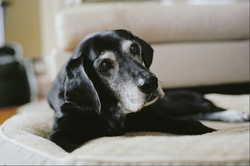 Tara, age 16, Ipswich, Mass. She arrived at the World Trade Center site at about 1 a.m. the day after the attacks. At that time, her owner says, ''there was a lot of hope that people would be found alive.'' Over her nine-year career, she located the victim of a crane collapse and participated in wilderness searches. She died earlier this year.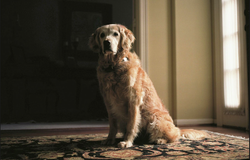 Bretagne, age 12, Cypress, Tex. She worked at ground zero for 10 days; it was her first deployment. Subsequently, her seven years of active duty included searching for survivors in areas affected by Hurricanes Katrina and Rita.