Dapper Dog Training traveled to the NYC Pet Show and manned the booth - but we also took a walk around to see what the best offerings were. One of these booths had a new take on doggie-halitosis. Using a natural seaweed from Sweden, the powder can be put in your dog's food AND swallowed and is completely safe. This is not a paid endorsement on my part, this is just a great, safe product!
Here is the website:
PlaqueOff for Dogs
And here is the scientific study:
PlaqueOff Scientific Study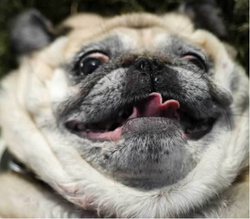 I just love the fugly pug faces...