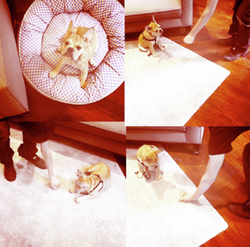 Meet one of our students Clark!

½ English Bulldog, ½ Frenchie.

On the 2nd lesson, Clark learned how to leave some food alone. Here's how you teach it:

1) Put food in your hand and close your fingers so your puppy can't actually get any of the food out of your hand. Put your hand where your pup can smell it and say 'Leave It' over and over again until your puppy gives up. When he does, immediately say, 'Yes!' and give him a treat from your other hand (NOT from your 'Leave it' hand – that's important).

2) When your puppy is good at Step 1, put the food on the floor, and say 'leave It'. If your puppy goes for the food, cover with your foot and say 'Leave It!'

3) Practice until perfect ☺. You shouldn't have to put your foot over the food after a few tries. 4) Hint: the food your put on the floor should be a big piece of something. That way if your puppy accidentally eats it, you can get it out of their mouth easily.