I'm sure everyone out there has now seen the youtube video of the guilty dog!!
Well, I think the video is very cute myself and it definitely is. But for you guys out there who really want to know if dogs can look guilty? Consult with a dear friend of mine, Julie Hecht, who studied dog psychology in Hungary. Here's the video first (since it's very cute, indeed;
Here is the link:
<<<<Denver The Guilty Dog>>>>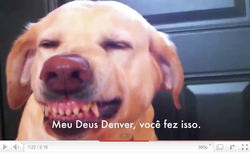 Now, Here are some excerpts from Julie's blog entry;


The takeaway messages from the morning show [on ABC] are:

1) Denver must have eaten the cat treats because when shown the empty bag and asked, "Did you do this?" Denver displays squinting eyes, thumping tail, looking away and presenting teeth;

2) Masey, the other dog in the room, does not show such behaviors and is deemed innocent;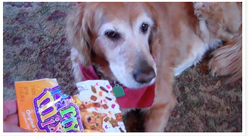 3) The owners proclaim that both Denver and Masey are sneaky;
4) The owners also say that Denver displays these behaviors when she has misbehaved. According to them, she tries hard to please them and knows when she has disappointed them.
Research finds that dog owners ascribe guilt to dogs. There is a reason this video received more than 5 million hits. Dog owners observe
particular behaviors
* - such as "avoiding eye contact, lying down and rolling to the side or onto the back, dropping the tail, wagging low and quickly, holding one's ears down or head down, moving away from the owner, raising a paw and licking" - and owners believe these behaviors correspond with a dog's feeling of guilty. In a 2008
research paper
**
, 74% of dog owners attribute guilt to dogs (as an FYI, the next highest attribution of guilt was made by horse owners at 36%). Additionally, dog owners believe that when dogs show "guilty" behaviors, dogs KNOW they have done something owners disapprove of.
To spell it out, owners believe that "guilty" behavior corresponds with knowledge of a misdeed.
The New York Times piece, "
It's an Owner's Scolding That Makes a 'Guilty' Dog
", covered Dr. Alexandra Horowitz's research into the "guilty look".
This research found that if you scold a dog, you could see "guilty" behaviors.
Dr. Horowitz said that the results show that dogs have learned to act in a certain way in response to their owners' behavior: "We've trained them that when they see us angry, they give us that guilty look.
I'm not saying they don't feel guilt," she added. "I can't test that yet. But we generate the context that prompts them to produce this look"