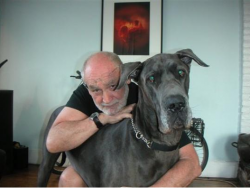 NEW YORK--Garry Gross, a fashion photographer, has died in Manhattan, his sister said Tuesday. He was 73.

His sister, Linda Gross, said he died Nov. 30 from a heart attack at his home in the Greenwich Village neighborhood. "He'll be sorely missed by family and friends alike," his sister said when reached by The Associated Press by telephone at his studio.

Though Garry Gross earned his reputation as a celebrity image-maker -- his pictures graced the covers of albums by Whitney Houston and Lou Reed -- in 2002 he switched careers and became certified as a dog trainer.

Most recently, he had turned to photographing portraits of canines, including such notable dogs as talk show host Rachael Ray's pit bull Isaboo.
Gross was born in New York City on Nov. 6, 1937. After college, he studied under photographers Francesco Scavullo, Lisette Model and Richard Avedon.

It was while training dogs that he became interested in photographing them and soon grew interested in the plight of senior dogs, his sister said.

"He was very concerned about the destiny of old dogs," Linda Gross said. "When their owners die, they end up in shelters. But people don't typically want to take them home."

She said he had hoped to produce a book about aging dogs and had taken many photographs for the yet-unpublished work.

© Copyright 2010 Associated Press. All rights reserved. This material may not be published, broadcast, rewritten, or redistributed.