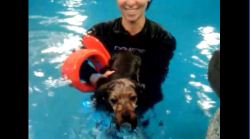 >>>>>>>LINK TO VIDEO<<<<<<<<
Stay tuned for a new puppy obedience class paired with a puppy swimming class!
An exciting new tribute to exercising and stimulating our puppies, Water4Dogs will be holding Puppy Swim classes and Dapper Dog Training will be holding Puppy Obedience classes in tide at 77 Worth street in Tribeca!
4 Months is about the right age...check out our first pup, who got the hang of it and can swim all by herself after this session!