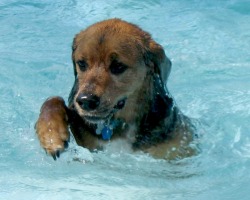 Tips for Keeping Pets Cool
Water: Have fresh water available at all times

Cool Down: Use a garden hose to wet down your pet (think of it as a bath without soap!) or use a very wet towel.

A Dip in the Pool: Some animals love the water, and a child's pool can make a great cooling agent for pets. Be sure to closely monitor your pet if they go in any body of water, as drowning can occur.

Watch Where You Walk: When you go on walks with your pets, try to avoid hot pavement and tar to prevent burns on paw pads. If you can, walk on grass or dirt and check your pet's paws to make sure there isn't any redness or pain.

Grooming: Ask your groomer or vet what is best for your pet. Some pets don't need a full shave, especially for white and light-skinned pets who can easily be sunburned. A small dab of sunscreen on the ears and nose can help.

Stay in the Shade: If your pet stays outside, make sure there is a shady area at all times. If your pet stays inside, ensure that there is an area where shade is always available from the natural sunlight.

Loud Noises: If you are attending a concert or an event with loud noises (such as the fireworks), it is best to leave pets at home as sounds, heat and crowds can disorient pets and cause stress.
Some NYC Pet Show Facebook Fans Tips & Tricks

"I freeze water in a giant plastic container then flip the chunk of ice that developed overnight onto her water bowl in the morning. I don't leave the AC on, but a fan aimed towards the sofa she likes to veg on."

"Lucky for us we have some indoor dog-friendly spots: Animal Haven Shelter Play Group, the Tribeca Grand Lounge, the Algonquin Hotel Lounge, etc."

"Our spoiled cats stay inside all day with the A/C on."

"For the dog lovers, watch out if you let your beloved dip in the bays at the shore. There are razor clams and your dog's paws will suffer - the clams can slice their pads on the bottom of there feet."

"ThePinkPaw.com offers Cooling Products for your dog! Made with cooling crystals sewn into them. They absorb many times their weight in water and turn into a gel. Made in Hawaii (and THEY know heat!)."

"My babies lay on the cool tile floors."